Job Tracker Professional
Banishes Health & Safety Heartache
We are delighted to launch our advanced Health & Safety module for Job Tracker Professional. The new module allows you to easily create comprehensive documents with just a few clicks!
Include Risk Assessments, Method Statements, and even COSHH Sheets, and generate a document within a matter of minutes. No more copying and pasting between files or re-entering job or client information.
You can utilise your existing documents as templates or we can get you started with examples.
You can even programme up a list of tools to display automatically in your document based on the method statements you've selected.


The new modern screen design provides an easy to read view and enables you to have quick access to all the job information important to you and your team. This information can then be automatically inserted within your documents wherever you choose – all at the click of a button.
One more click, and you have a PDF version saved and ready to email to customers/clients or site staff. Additional documents and images can also be attached if required.
If you have the need to generate a Health & Safety document with multiple pages, and the content varies on a per job basis then this really is the perfect solution for you. Customers already using this new module have reported so much time saving that it's enabled them to take on more work. Others have reported that they are delighted to now have their weekends back along with peace of mind that they are fulfilling their Health & Safety obligations.

Call us to see how you could benefit : 01255 830113
No More Health & Safety Headaches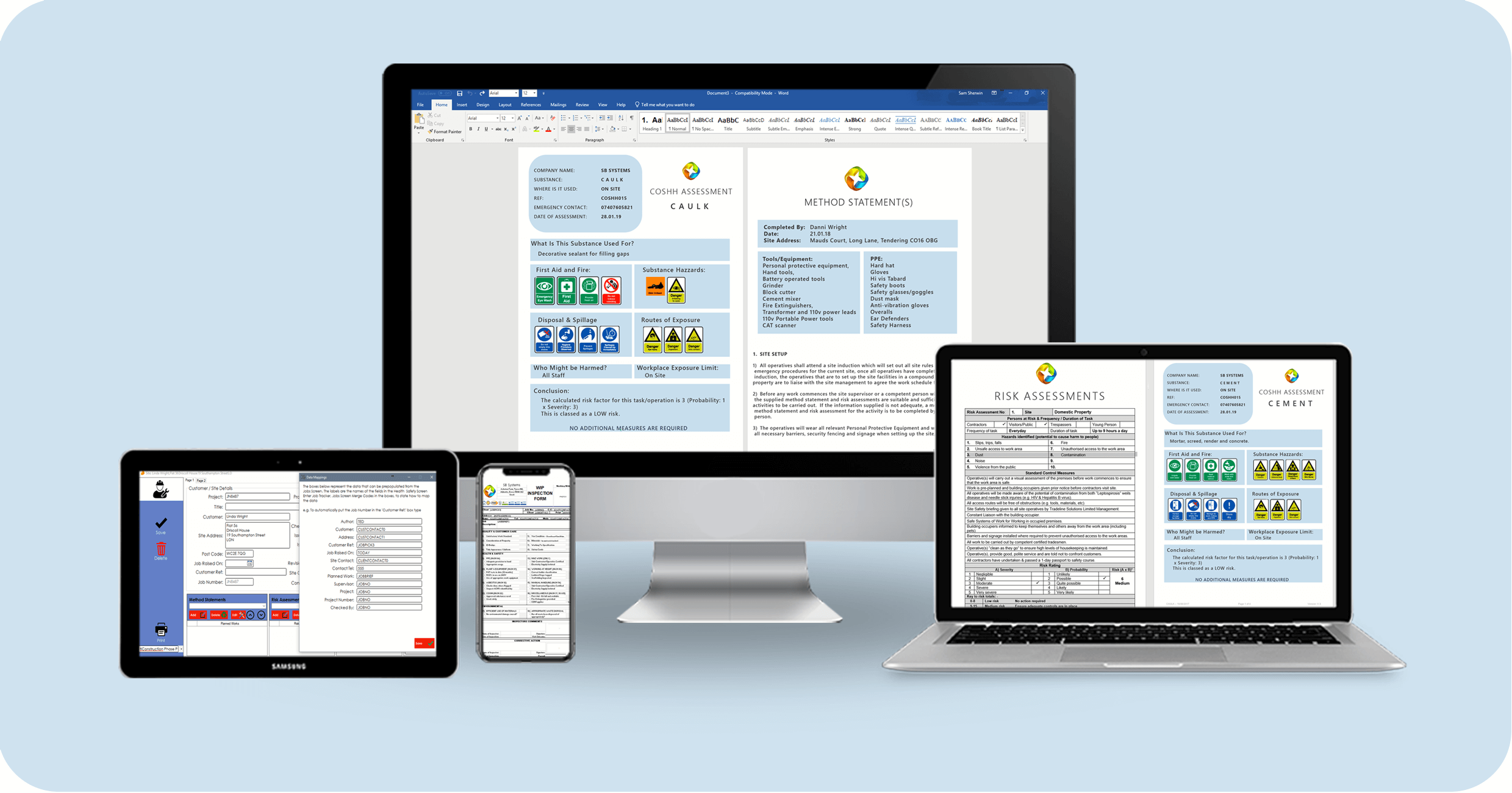 This phenomenal module will take all the hard work out of creating your health and safety documents. Once you're up and running, you'll wonder how you ever survived without it.
Now You Can:
• Easily Generate simple or in-depth Health & Safety documents
specific to each job.
• Easily insert method statements specific to the job and even automatically insert details of the relevant tools.
• Simply select the risk assessments and COSHH sheets relevant to the job and have them automatically inserted into your documents where required, eliminating the need to cut and paste across files.
• Utilise your own documents as templates and have all the appropriate site and job information automatically inserted at the click of a button.
• Easily view your documents automatically stored against the job and convert these to a pdf to email to your customer, client or site staff.
• View a record of all emails and documents sent, as evidence that you have met your obligations in terms of Health & Safety.
Available on a 12-month leased licence basis. £250 per year for the first user, or £500 to lease it company-wide covering each of your Job Tracker Professional licences.
The solution you need is here ready for you, so what are you waiting for?
Contact us to get up and running or to find out more.
Email: Hello@SBSystems.co.uk or call 01255 830113
Remember, whatever your software needs,
no matter how unique, simple or complex,
w
e'd love to hear from you.
S B Systems, Your Experts In Software